MORE LINKS
HOW YOU CAN HELP
Get Involved, Volunteer
Learn how to start an outreach program to help seniors, nursing home residents and adults and children with disabilities.

DONATE
We need wheelchairs, adaptive equipment, other items and tax-deductible cash donations to help more elderly, disabled, & children.



About our Charitable and Humanitarian Organization
| | |
| --- | --- |
| | The Bridge of Hope Foundation is a 501(c) 3, non-sectarian, non-political charitable and humanitarian organization founded in 1996 by a group of concerned individuals who believe that more should and can be done to help some very special people. |
---
The mission of The Bridge of Hope Outreach Project is to provide help for:
Nursing Home Residents
Children and Adults With Disabilities
---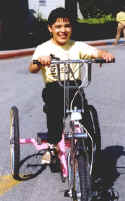 We are funded by:
Community Service and Religious Organizations
Tax deductible contributions from concerned individuals and companies
Grants
Bridge of Hope Foundation gift sale profits (coming in the future)
We invite you to join us as partners in this effort. Your support is greatly needed and welcome. We thank you for your interest.
Email us at info@bridgeofhopefoundation.org or
call us at 831-464-2362 if you can help in any way,
or if you want help in starting a similar program in your area.