Care Facility Visitation & Worship
"We are indeed very grateful for the generous ministry of the Bridge of Hope Foundation. Their weekly visits and provision of treats and uplifting Christian reading material in large print create much joy and high morale to our many clients in our care home."
Care Facility Visitation, Nondenominational Worship
Services and Memorial Services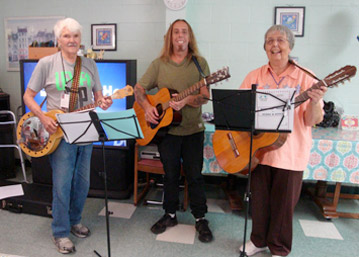 Walk into any care facility today and you will see them: The elderly, young disabled, the lonely and too often, forgotten ones. Most receive no visitors and sit alone for hours. The Bridge of Hope Foundation provides one-on-one visitation as well as group nondenominational worship services. Many residents treasure memories of growing up in church.
We never outgrow our need for spiritual growth, and the Bridge of Hope provides care facility church services which include singing old hymns and favorite choruses, uplifting and encouraging messages, and prayer time. Over the years, we have provided hundreds of memorial and celebration of life services for those who would otherwise not receive one. The residents often have no family, and consider their fellow residents as family. Our services provide them an opportunity to honor and celebrate the memory of their resident "family" members.
How You Can Help
Support us by volunteering, donating money or donating items.