Life Affirming Experiences
"The Bridge of Hope volunteers have been absolute angels in regard to MHCAN of Santa Cruz, bringing teddy bears for our children suffering with autism and extreme depression from cancer."
Our nursing home resident friends engage in some of the life affirming experiences they deeply appreciate and enjoy, like: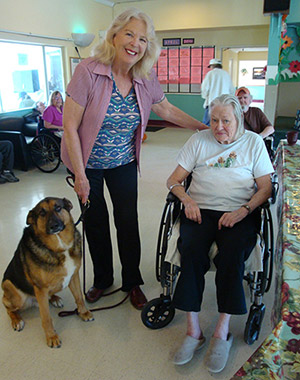 MUSIC – Singing, instrumental music (played by residents and special guests) like piano, guitar, harmonica, and flute. And, of course, hand-clapping!
ANIMALS – Our animal friends bring joy to the residents. Dogs can help nursing home residents bridge the present with the past. The resident often recalls memories of their pets that make them smile. A dog is seen as an instant, trusting friend. Dogs have elicited reactions from patients who had been unresponsive due to coma and strokes!
PLANTS AND FLOWERS – 94-years-young Doris has helped plant a beautiful garden that gives all the residents pleasure.
TEENS AND YOUTH – In our age-segregated society, young people and seniors may rarely encounter each other. Uniting generations helps to break down stereotypes. Differences in ages become insignificant when the opportunity to love and be loved is shared.
SOCIALIZING ON A ONE-ON-ONE BASIS – Residents enjoy sharing their life stories. Both volunteers' and residents' lives are enriched during special time spent together.
How You Can Help
Support us by volunteering, donating money or donating items.