MORE LINKS
HOW YOU CAN HELP
Get Involved, Volunteer
Learn how to start an outreach program to help seniors, nursing home residents and adults and children with disabilities.

DONATE
We need wheelchairs, adaptive equipment, other items and tax-deductible cash donations to help more elderly, disabled, & children.

Bridge of Hope T-Shirts

Support the Bridge of Hope programs and get a really nice T-shirt in the process!
These also make a great gift.
T-Shirts are comfortable 100% cotton pre-shrunk, with the Bridge of Hope logo on the front. Shirts available in black or ash gray.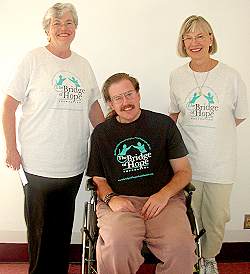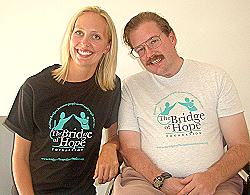 Gray Tee Shirt $15.00

Black Tee Shirt $17.50

$4.95 Shipping & Handling for the 1st item and $1 for each additional item
Email us at info@bridgeofhopefoundation.org or
call us at 831-464-2362 if you can help in any way,
or if you want help in starting a similar program in your area.