MORE LINKS
What we do
HOW YOU CAN HELP
Get Involved, Volunteer
Learn how to start an outreach program to help seniors, nursing home residents and adults and children with disabilities.

DONATE
We need wheelchairs, adaptive equipment, other items and tax-deductible cash donations to help more elderly, disabled, & children.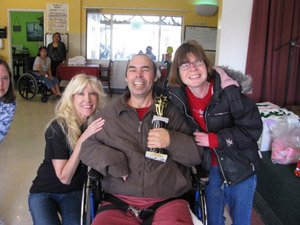 The Bridge of Hope Foundation is a grass roots charitable organization without any governmental funding. We are a 501(c)3 non-profit organization and any money donated is tax deductible.

In order to provide the many services we offer to help our disabled and elderly nursing home residents, many things are required:

The work of our supportive volunteers

Donations of adaptive equipment, food, transportation and other physical items.

And, of course, money.
Your generous support of the Bridge of Hope Foundation is what has allowed us to provide so much to so many of the elderly and disabled residents who otherwise were stuck in a lonely, unhappy world with little or no support from anyone outside the nursing home system.

Your continuing donations will allow us to continue our programs and expand to help even more people experience a little bit of joy in their lives.
You may send checks to:
Bridge of Hope Foundation
P.O. Box 576
Soquel, CA 95073
Or, for your convenience, you may donate using your Visa, Mastercard, or Paypal account. Paypal (owned by E-Bay) is the largest processor of secure on-line payments, so you can be confident that your personal information is protected by the latest security measures. In addition, we will never sell or share your information with any other group, individual, or business.
To donate, please click on the Donate Button, and
then fill out the simple form on the Paypal web site.

Thank you for your support.