SUCCESS STORIES
Denis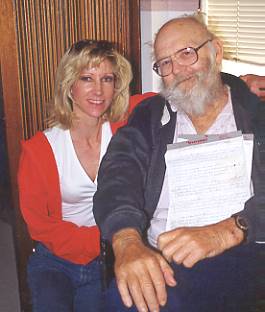 Everywhere Denis goes, he spreads hope and good cheer. But there was a time when he could not do that. Denis was born in San Francisco in 1933. He made his living as a carpenter and as a house painter. At that time, nursing home life was far removed from his thinking. Being strong and athletic, he did a lot of surfing, skiing and playing of tennis.
Then, something happened that ended the "good life" he had enjoyed for many years. He fell off of a roof and landed on a pile of bricks. His back was broken and ever since then, he has needed to use a wheelchair. Shortly after this incident, he was forced to move into a nursing home.
Denis says, "For at least two years after my accident, I was angry at God and wanted to die. Then one day, I turned my thinking around. I now am thankful for all the good things I have and I now praise God in my heart."
Part of Denisâs healing process came out of his discovered writing ability. He started writing and has never stopped. Denis is the nursing home journalist. He writes uplifting, faith building poetry and stories about many aspects of life and distributes his word pictures to residents and others to encourage them. He also is a good verbal story teller and has a great sense of humor.
---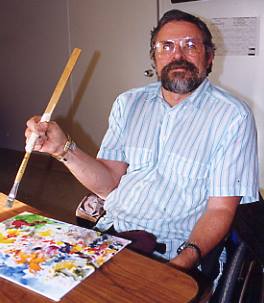 Frankâs faith has always played a prominent role in his life. He was born in Syracuse, New York where as a youth he was an alter boy in the Catholic Church that he and his Italian relatives attended.
In high school, Frank discovered his love for art and his artistic abilities. After attending a local commercial art/design college, he enrolled in The University of California Santa Cruz where he graduated with a B.A. in Art.
As a reservist, Frank was called to serve in the Viet Nam war. While serving our country in the capacity of a soldier, Frank was shot by a sniper and severely wounded. He was also subjected to Agent Orange and now has M.S..
Art and painting continue to play a major role in Frankâs life. In his small nursing home room, Frank spends many hours painting various subjects. One rewarding Bridge of Hope project was that of helping Frank frame and place some of his art work in a local Cafe.
Frank says, "whether on the battle field in Viet Nam or here in the nursing home where I battle with my frustration and sadness, I find that my faith in God gives me the strength I need. See my paintings on my room wall? They express my love for God, for people and life. I spend hours many days looking out my window at the trees and birds. I like to share bread crumbs with the birds. I have a lot to be thankful for."
Like other nursing home friends, Frank is like a loved family member.
Email us at info@bridgeofhopefoundation.org or
call us at 831-464-2362 if you can help in any way,
or if you want help in starting a similar program in your area.