MORE LINKS
Buy Fine Art Photography Prints
HOW YOU CAN HELP
Get Involved, Volunteer
Learn how to start an outreach program to help seniors, nursing home residents and adults and children with disabilities.

DONATE
We need wheelchairs, adaptive equipment, other items and tax-deductible cash donations to help more elderly, disabled, & children.



Community Service Ideas and
How You Can Help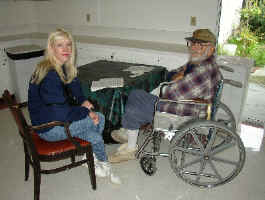 The Bridge of Hope Foundation is a grass roots charitable organization without any governmental funding. We are a 501(c)3 non-profit organization and any money donated is tax deductible.
It takes special resources like those listed below to make a project like ours work.
Volunteers who care for people, who have a heart for serving and are willing and able to provide visitation and other services for Nursing Home residents.
Volunteers to provide money donations for purchase of needed project items and services.
Volunteers to provide physical donations like power wheelchairs, clothing, celebration supplies and other material items.
How We Have Secured Needed Resources
Local Community Service Organizations like Rotary Clubs, Easter Seals, and others have provided resources. Twin Lakes Church, the large local church we attend, has been a great resource for obtaining funding and volunteers. Beyond that, involvement within the church by the people we serve provides them with needed social interaction and spiritual support. And church members share with us our joy of serving. Churches nation wide provides a great potential for helping to solve the Nursing Home crisis.
Support Us by Shopping at our on-line Store
| | | |
| --- | --- | --- |
| | | |
Please click on the links above to learn more about how you can help.