MORE LINKS
HOW YOU CAN HELP
Get Involved, Volunteer
Learn how to start an outreach program to help seniors, nursing home residents and adults and children with disabilities.

DONATE
We need wheelchairs, adaptive equipment, other items and tax-deductible cash donations to help more elderly, disabled, & children.



SUCCESS STORIES
Andy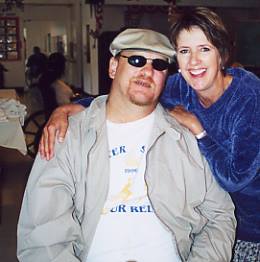 From the age of seven, Andy loved sports, especially baseball. When it came to school work and studying, he could care less. But baseball, that was something else. Maybe it was because Andy had always been big and strong for his age, or maybe it was because none of his teachers realized that his reading skills were hampered by the fact that he was dyslexic, but whatever the reason, he focused his energies on the thing that he was good at and best loved and understood, sports.
At first, his high school days went smoothly. Studies went all right. Life for Andy was full of typical high school activities including dating, cars, and of course more sports, sports big time. He made first string positions on the baseball team, the football team and the basketball team. And to his delight, a baseball scout offered him a scholarship.
Andy was a good pitcher. But in one game, he hurt his arm so severely that his prospective baseball career came to an abrupt end.
Out of school, trying to make up for his disappointments, Andy became a workaholic holding down three jobs. His fatigue and high blood pressure failed to slow him down. Andy now says, "from the time I was nineteen till I was thirty five when I had my stroke, I was continuously partially drunk or high on different street drugs." His stroke left Andy paralyzed on his left side.
Through physical therapy, determination and learning to live with his reality, Andy now lives a full life. He is thankful that our Bridge of Hope effort has been able to assist him in many ways including helping him to realize his goal of getting out of a nursing home into an independent living situation.
While never being fond of academic endeavors as a youth, he is now deeply involved in creative writing including writing his autobiography. It is a joy to see how much pleasure Andy gets out of his writing.

Email us at info@bridgeofhopefoundation.org or
call us at 831-464-2362 if you can help in any way,
or if you want help in starting a similar program in your area.